Poles will build components for the E-ELT
Poles will also participate in the construction of the world's largest optical and infrared telescope. Engineers from Sener Poland will make components for two mirrors of the "largest human eye on the Universe" – as the project is called.
Last week in Garching, Germany, a contract was signed for the construction of a component of theów mirrors on the Vistula. Our engineers will build m.in. machines with a positioning mechanism for the assembly of the mirrors, components for transport and for their protection.
Construction of the Extremely Large European Telescope (E-ELT)began in 2014. The project was developed by the European Southern Observatory (ESO), whichórego Poland has been a member since 2015. The total cost of the project is estimated at about one billion euros. The opening of the plazaóThe head was scheduled to be completed in 2022, and work was scheduled to begin in 2024.
The E-ELT site is located in the central Atacama Desert in Chile on the górze Cerro Armazones at an altitude of 3060 m n.p.m. GlóThe telescope's inner mirror will be 39 metersóin diameter. For this, four accompanying mirrors will be installed. The whole will give astronomers 978 metersóin square collecting area, which will be 13 times better than the current largest telescopesów.
E-ELT is to take up the search for planets, on which theórich conditions conducive to life. It will make it possible to study the composition of the atmospheres of planets outside the solar system. For it will be used to study dark matter and facilitate space observation. Scientists are pinning high hopes on it.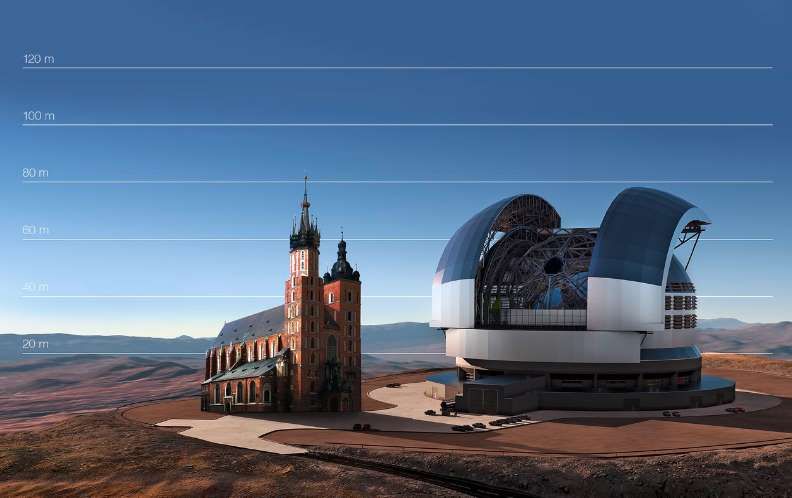 Porówcomparing the size of E-ELT and St. Mary's Church. Photo. ESO
The Polish branch of Sener was established in 2006. Engineers employed by the company were already building components for the space sector early on. Parts of the mainównie to Mars probes and roversów. Sener also won a tender to build and assemble a 10-meter-long probe arm, whichóra in five years will fly to meet Jupiter.
– We are proud that Poles have been involved in the construction of such an important device for humanity, especially since this is the largest and most responsible task that Polish entities have carried out so far – said Aleksandra Bukała, CEO of the company.